Rent Crete Villa
---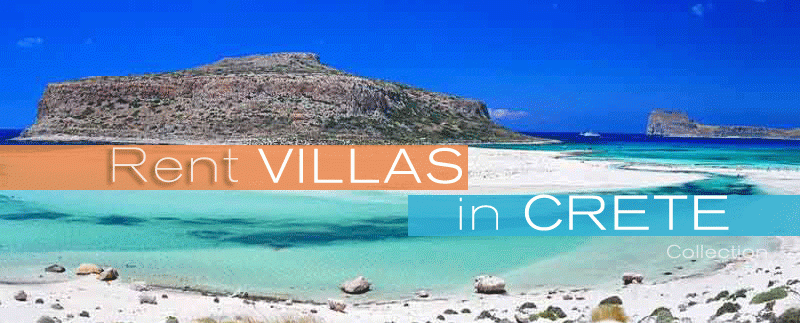 Rent Crete Villa
Crete is the largest island in Greece, and the fifth largest one in the Mediterranean Sea. Here, the visitor can admire the remnants of brilliant civilizations, explore glorious beaches, impressive mountainscapes, fertile valleys and steep gorges, and become part of the island's rich gastronomic culture. Crete is, after all, a small universe teeming with beauties and treasures that you will probably need a lifetime to uncover!
Crete simply has it all!

Chania
The region of Chania, on the western side of the island, is dominated by the impressive White Mountains (in Greek: Lefká Óri) and its famous National Park, which occupy the largest part of the region.
Rethymno
Crete's smallest prefecture located between White Mountains and Mountain Psilorítis, is synonymous with gorgeous mountainscapes, marvellous beaches, Cretan lyre melodies, tsikoudiá spirit served with "oftó", legendary caves, historic monasteries and monuments, traditional mountain villages and luxurious holiday resorts.
Heraklion
The largest and most densely populated region on the island of Crete is Heraklion (Iráklion). Boasts exceptional archaeological treasures, significant coastal settlements, a series of picturesque villages, vast valleys with olive groves and vineyards as well as the best organised tourist infrastructure in Crete.
Why Book With Us
Make your reservation directly through our website and take advantage of the benefits and valuable rewards described below:
A decade of experience in the hospitality sector and specifically in villa rentals.

Bring you in Contact direct with the owners prior to your arrival.

No booking fees.

Simple, easy and fast booking process. Flexible payment (% of deposit)


Additional services at our villas.

Special prices,exclusive discounts with our partners (car rentals, cruises, restaurants, therapists, personal tr).

Dedicated service ensuring tailor-made experiences to fully customize your journey.

Returning guests are offered the highest discounts.