Property ID : KALIVES12
For Rent
60,000€ Per Season - Hotel for Rent
Small Hotel For Rent 50 meters from the beach
For rent hotel of 4 studios and 4 two bedroom apartments fully furnished and equipped, + land, 20 meters by the sea, active EOT licenses, linen inventory, wi fi, beautiful garden.
It Is also offered  for Rent for 5 years at 60.000/year
This is a small, lovely, family run block of studios and apartments at the eastern end if Maistrali Beach in Kalives. It is slightly uphill and only about 30 meters from the beach and tavernas, with many rooms having a great view across Souda Bay.
LOCATION
Kalyves is a pretty seaside village in the area of Apokoronas in Chania, on Souda Bay, 19 km east of Chania.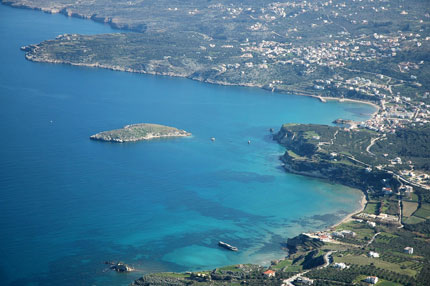 Kalyves is one of the resorts on Cape Drapanos, along with Almyrida and Plaka, which are famous for their lovely beaches but also their intensive building development. Thousands of British people visit Kalyves every year, not just on holiday but also to buy land and summer villas.
Apokoronas is one of the most beautiful and greenest parts of West Crete.Here you will find woods, large areas of cultivated land, mountains and hills with small settlements and beautiful, picturesque villages, all well worth visiting for a taste of Cretan nature and traditional Cretan architecture.
Features