Property ID : CRETEINVEST12
For Sale
10,000,000€ - Investment Proposals, Land For Sale Greece
Seafront Land Plot in Elounda Crete of 42.000 sq.m Ideal for Hotel
Crete is the largest island in Greece, and the fifth largest one in the Mediterranean Sea, boasting a six months touristic period.
LOCATION
The site for the Project lies on the Noth-Eastern coast of the island of Crete.
The coastal Land Field  is situated only steps (50 m) from a remarkably beautiful and peaceful beach and near to a popular coastal tourist resort. It boasts awesome panoramic views of the picturesque coast and the bay.
DISTANCES 
About 2 km to the center and the sandy beach of the nearby well-known resort.
A 10 km distance from the capital of the region.
A 60 km distance from the nearest international airport.
PARCEL OVERVIEW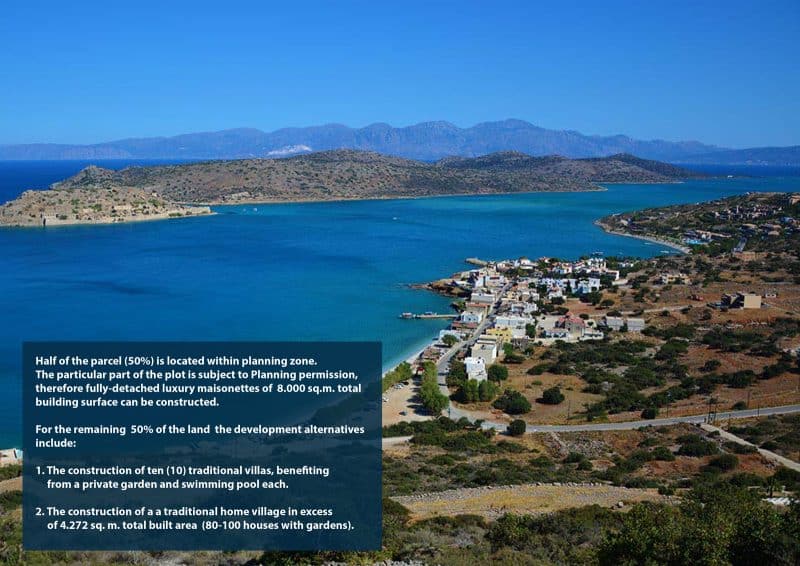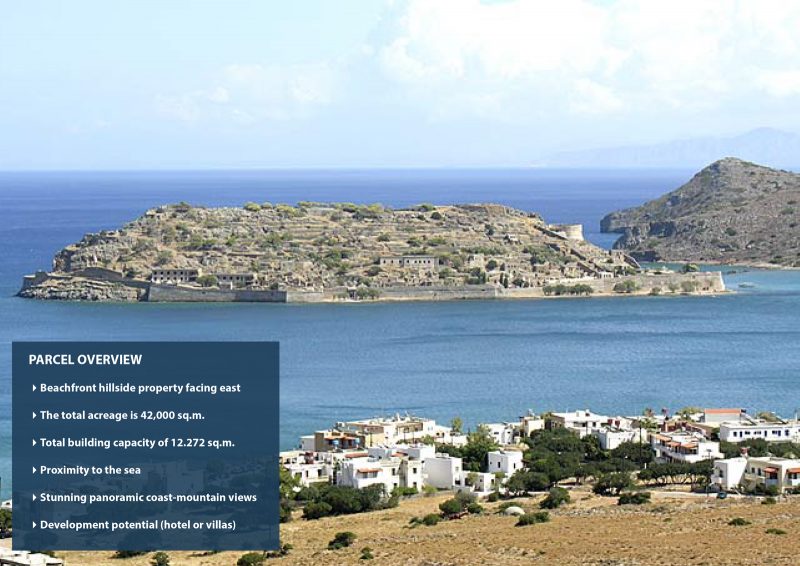 INVESTMENT PROJECT
The Plot's size and location allow for diverse development potential, including a Resort or holiday home village. Thanks to the property's prime location as well as the benefits of the broader region along with the exquisite microclimate, the particular Parcel can be proved to be an extremely profitable and speculative investment.
Investment in Crete
The total size of the plot is 42.000 m². It is situated in the traditional fishing village of Plaka with nice views of the sea and the famous medieval fortress island of Spinalonga. It is also very near the famous resort of Elounda with the most exclusive and expensive hotels in Greece.
About half of the plot is inside the extended town plan of the village, meaning a lot of m² of buildings can be constructed.
PLOT INSIDE THE TOWN PLAN
The town plan expansion process is in the final stage and it will be approved by the Ministry of Environment in the next few months.
After the plan is approved and after the roads are constructed inside the plot, the total area remaining will be 13,350 m², divided in 6 or 7 building squares.
After that, building permits can be issued for up to 8,010 m² of buildings, plus verandas, plus basements. This results to 80 or 100 houses, depending on the architectural design.
The owners have currently issued a building permit for 4 traditional houses and have started construction as a "pilot project" with very good results in sale prices and demand. Sale price per square meter ranges from 2,700 to 3,100 Euro.
PLOT OUTSIDE THE TOWN PLAN
The plot outside the town plan is a total of 21,360 m². This plot can be utilized in two ways. Either it can be divided in 5 plots of about 4,000 m² each and build 5 or 10 luxury villas with swimming pools and large gardens. Or it can be developed as "traditional village" bungalow hotel.
The owners have currently chosen the second option (traditional village) and have started making the architectural designs and have obtained the initial permits required for the hotel.