Property ID : CRETEPLE
For Sale
10,000,000€ - Land For Sale Greece
80.000 sq.meters of Land near the sea at Crete Elounda for 100 villas
Crete is the largest island in Greece, and the fifth largest one in the Mediterranean Sea, boasting a six months touristic period.
LOCATION
The site for the Project lies on the Eastern coast of the Crete island.
Perched on the slope of a hill above a beautiful beach the Land Plot benefits from awesome panoramic views of the picturesque coast and the Aegean Sea. It is located a five minutes' drive from the capital of the area. The broader area is rich in sightseeing, beautiful beaches and  natural settings.
DISTANCES 
About 3 km from the capital of the province.
A 11 km distance from the the sandy beach of the nearby well-known resort.
A 60 km distance from the nearest international airport.
PARCEL OVERVIEW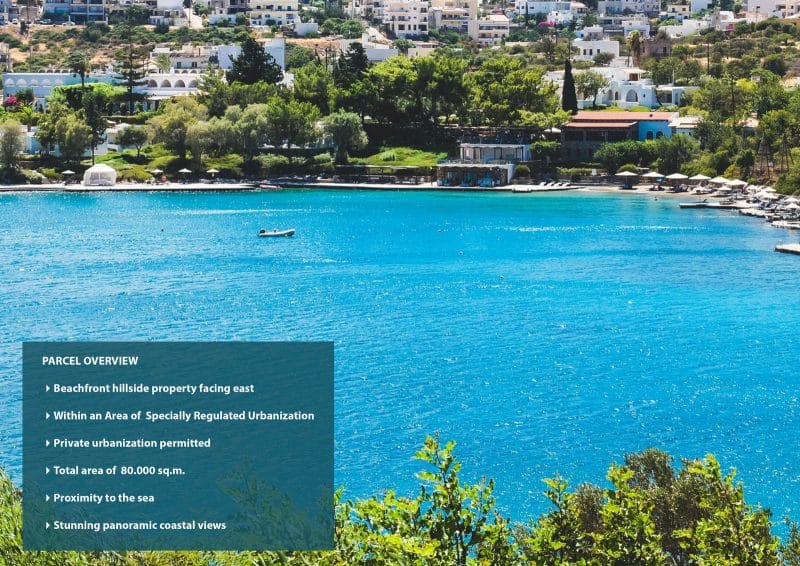 PARCEL DEVELOPMENT PROPOSAL
The development proposal for the Parcel is the construction of an ideal, 24-hour security housing development of a 11.520 sq.m. total building surface.
The residences' number ranges from 100 to 120 villas in excess of 110 to 160 sq. m.
The Plot follows the slope of the hill, thus the traditional stone houses are about to be amphithetrically built, boasting uninterrupted stunning sea view within an impeccable natural environment. Each of the units will feature a private garden and swimming pool.
INVESTMENT PROJECT
The land plot is ideal for touristic development. Its size and location allow for diverse development potential, including a settlement of luxurious holiday villas while the sloping ground offers magnificent panoramic sea views to the Aegean. Thanks to the property's prime location as well as the benefits of the broader region along with the exquisite micro-climate, the particular Parcel can be proved to be an extremely profitable and speculative investment.
Features