Property ID : SANTORINIVO10
For Sale
900,000€ - Hotels For Sale Greece, Investment Proposals, Maisonettes in Greece
Investment in Santorini: Hotel of 6 Suites with Central Pool, Santorini Vothonas
In a land plot of 4.000 sq m with great sea views, these 6  Houses  with big central pool are for sale in a very good price!
Ideal for buy-renovate-and resale or rent! almost one acre per house. Can become a luxury homes complex with pool and services like tennis court and more.
All houses have fireplace and full electrical appliances.
There is also available a detached plot for further expansion.
With beautiful views at the sea and the nearby islands like, Amorgo, Anafi and Astipalaia.
Great investment opportunity if these houses are bought and renovated.

About Area -Vothonas:
Vothonas
This farming village is characterized by the amazing complexes of rock-hewn houses. It is 3.3 km far from Fira, next to Messaria. It was built on both sides of a gorge, which is about 5 km long.
According to Dr Dora Monioudi Gavala* the village was built in the center of a gulley, also point where two lesser gulleys meet. It belongs to the type of excavated settlements and developed along the branches of those channels spilling over in the area around. It appears in written sources and drawings at about the middle of 18th century and is present in Olivier's depiction of Santorini in 1801.
The settlement is a combination of built and open spaces and structures both cut in the ground or built above it. The bottom of the valley was the main circulation axis. From it started narrow rising paths that led to dwellings placed higher. The English nobleman Theodore Bent who visited Santorini in 1883 wrote about Vothonas that "the bed of the torrent forms the street, on either side are lovely gardens, for in this sheltered spot everything flourishes…". At the time Bent visited Santorini Vothonas knew a time of prosperity. During the last decades of the 19th century, this prosperity left its mark on the built-up space giving it impressive facades with pillars, high ceilings and ample space in excavated structures, grandiose entrances.
ABOUT SANTORINI
With two million visitors arriving each year — or nearly 10 percent of the total number of tourist arrivals for the whole country — as well as frequent first-place rankings in surveys of favorite holiday destinations, the Greek island of Santorini has emerged as one of the top tourism destinations worldwide.
There are currently 75 airlines offering flights to Santorini, with their number rising and flights arriving from dozens of countries, reaching as many as 57 a day during the summer months. Visitors also arrive on cruiseships that dock at Santorini from March until almost Christmas, letting off as many as 25,000 people a day.
Santorini, is the top destination in Greece and among the most romantic destinations in the Greek islands and also in the world.The island of Santorini has been voted as the most beautiful island in the world more than 4 times and is one of the most photographed places in the world.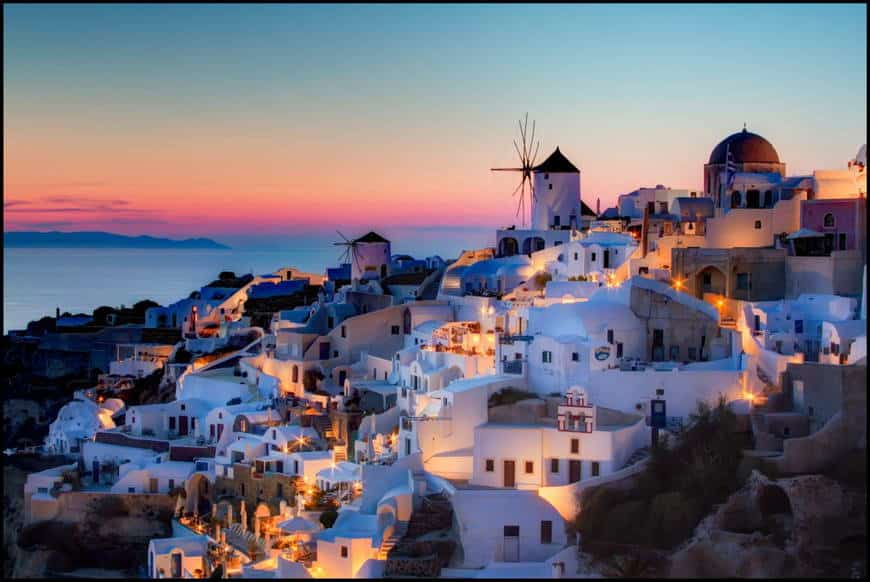 Santorini is essentially what remains of an enormous volcanic explosion dated back 3,600 years and which created the current geological caldera.It is 128 nautical miles away from the port of Piraeus /Athens. 30 minutes flight
The Caldera and the whole cluster of the Santorini islands have been characterized as an area of outstanding natural beauty.
Since 1980, thousands of couples from all over the world have chosen Oia and other Santorini villages for their wedding, or honeymoon tr ip. It is estimated that more than 500 ceremonies take place each year
Santorini is considered to be the most sought after place for a romantic getaway in Greece, since there are not many places in the world where you can enjoy exquisitely clear waters while perched on the rim of a massive active volcano in the middle of the sea!
A visit to Santorini is the ultimate gastronomic experience, as the island is a true culinary paradise! Treat your taste buds to some famous traditional products like cherry tomatoes, white egg plants, fava, caper and "hloró tyrí", a special kind of fresh goat cheese found on the island, or why not try some of the exceptional wines produced from grapes grown in the volcanic soil of the island!
Venture into Santorini's seaside treasures and enjoy deep blue waters and beaches with white, red or black sand or volcanic pebbles, spectacular rock formations and impressive lunar landscapes.
Features