Property ID : DEAL2
For Sale, SOLD
500,000€ - Villas for Sale Greece
TOP! 2 Cave suites at Caldera in Santorini with amazing views – ROI 20%
This deal is unique. there is no other in the island of Santorini. these 2 houses are the cheapest in Caldera with the highest return on investment.
For Sale , property of 2 Cave suites of 35sq.m and 25 sq.m each with private balcony just above the sea and the caldera. With amazing sea views from inside the suite and from the balcony. Ability also to build a big Jacuzzi (pool) like a sharing pool or a breakfast area.
Plus a big common terrace for sun beds and amazing views at the sea and the sunset.
Each Cave suite is offered for rent from 350-500 euro per night. Generating around 100.000 euro per season mixed income.
The selling price of this property is the best that anyone can find at Caldera of Santorini. (Its like you buy ready made cave suite for 225.000 euro each)
Suite No1: 35 sq.m 1 bedroom, 1 bathroom, build in double bed, balcony of 25 sq.m
Suite No2: 25 sq.m 1 bedroom, 1 bathroom, built in double bed, balcony of 10 sq,m
+Sharing Terrace for sunbathing
A few words for those who do not know about Real Estate in Caldera of Santorini:
The prices of the ready made suites at Caldera start from 600.000 for a suite of 45-55 sq.m and can go up to 900.000 euro
Like the Cave Suite below that is 55 sq.m at 830.000 euro: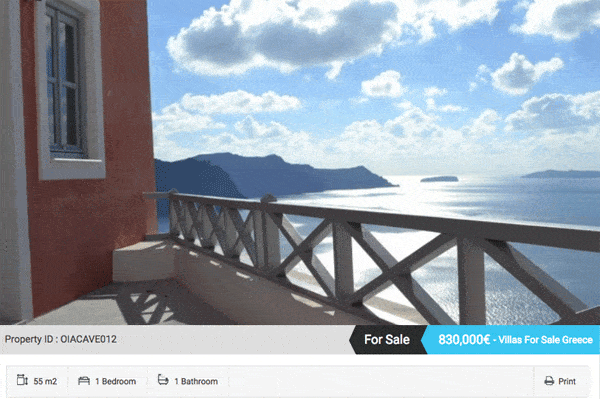 The ruins of caves that many people are looking for to buy and reconstruct to turn them into luxury caves are sold from 400.000-450.000 euro for a totally destroyed cave house of 40 sq.m
Like the cave house below for example that is 46 sq.m at 460.000 euro: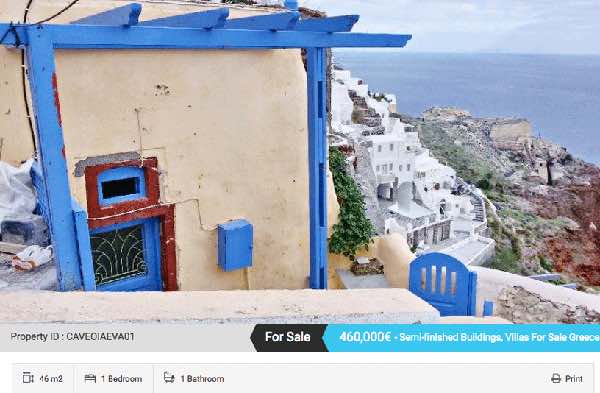 Further information after sign of Confidential Agreement and upon visit in the island of Santorini for property inspection.