Property ID : OIA013
For Sale
9,500,000€ - Hotels For Sale Greece
Luxury Hotel Oia Santorini
Villas & suites  luxury hotel in Oia Santorini. Oia is a picturesque hamlet situated on the cliffs above the beautiful Caldera, with an enchanting view of the endless Aegean Sea and the volcano.
Oia is a spot constituting an ideal place for Santorini Luxury Hotels as visitors are offered from there one of the most magical sunset views in the world.
The hotel is one of the finest Oia Santorini Hotels comprised of 16 luxurious hotel suites, including junior, superior and honeymoon suites, providing upscale accommodation in Santorini Greece.
DETAILS & DESCRIPTION
The complex situated in a picturesque village of Santorini, the red cliffs above the Caldera with spectacular overlooking the Aegean Sea and the volcano. It consists of 15 luxury suites which are characterized by minimal lines, is equipped with traditional furniture and have spacious verandas, with decor that focuses on the traditional elements and the Cycladic architecture. Have been used excellent quality materials and offer all standards for luxurious, pleasant and relaxing accommodation.
We offer this property at the best price in the market because of our excellent relation with the seller. The property is offered from other agency at 10.000.000 euro (see below):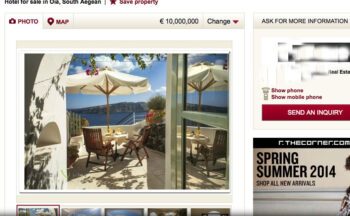 Oia Santorini
The settlement of Oia is perhaps one of the most charming and welcoming Villages in Greece. Its enchanting architecture and stunning Caldera, sea and sunset view make it a favorite holiday destination for those who are searching for a marvelous getaway where they can relax and enjoy the breathtaking scenery.
Santorini Greece
If there is one image of the Greek Islands that can be identified by everyone, it is the exquisite Santorini volcano and sunset vista. Indeed, Santorini is a must-visit destination for many world travelers, due to its dramatic natural features, long history, and cosmopolitan character, which make it popular with those who want a stylish, refined vacation destination.